In this article, we will show how to hide files and folders from your search results in Windows 11/10. There is a built-in function to synchronize and index the files on the PC and update the data whenever there is a change. The search box, the one available next to the Start menu, helps you find existing built-in or downloaded programs and files. After all the existing files and programs related to your searched keywords, you see the corresponding web results.
While this feature is definitely not for everyone, sometimes you might want to hide a set of files in a folder so that it is not viewed by someone. Either way, if this is something you were looking to figure out on your own, here's how to do it.
How to hide files and folders from Windows search results
Here's how you can configure your Windows search to hide certain folders:
Open Windows settings by pressing the Windows + "I" key combination
From the options available on the Settings home page, select Search
Click Windows Search in the options pane to your left
Scroll down and under the Excluded Folders heading, click Add Excluded Folder
A dialogue prompt from your explorer will open.
Select the folder that you do not want to display in your Windows search and click on Selected folder
It is just as easy for you to remove a folder from the Excluded Folder list as it is to add a new one.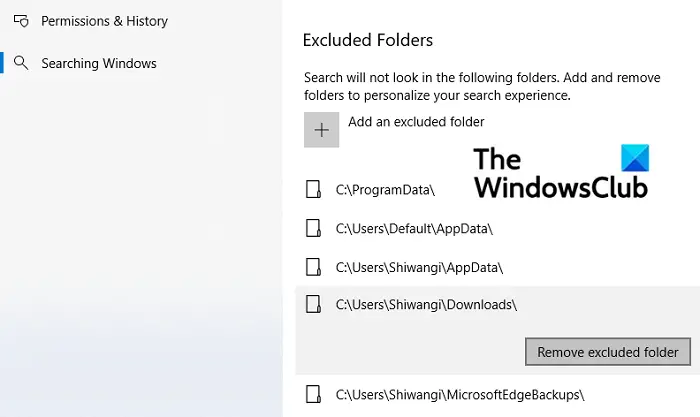 All you have to do is select the folder you don't want included in the list and select Remove Excluded Folder
How to hide a folder in Windows 10?
A very similar question to the one discussed above is how to hide a folder or drive in Windows 10 and it is also a little different. When you hide a folder in Windows, it does not appear when you browse File Explorer or Windows Search. Here's how to enable this privacy setting on a folder:
Open File Explorer, right click on the folder you want to hide and click Properties
Under the General tab, activate the Hidden option which is located next to the Attributes header
Click Apply then OK to save these changes
Enable the Apply changes to this folder, subfolders and files option if you are hiding a folder that contains subfolders
Read this article if you want to know how to further increase the privacy of your file by protecting it with a password.
How to change a hidden folder to normal?
The above question is similar to how to show folder in Windows 10. If you want to show hidden files and folders, there is an easy option to do it in File Explorer. Click the View tab and in the Show / Hide section, select Hidden Items.
We hope this article has been able to take away all your doubts about files on Windows and how they can be secured according to your needs.
Source link