Mid-2012 MBP passed away. Unable to reinstall the operating system. To help. :(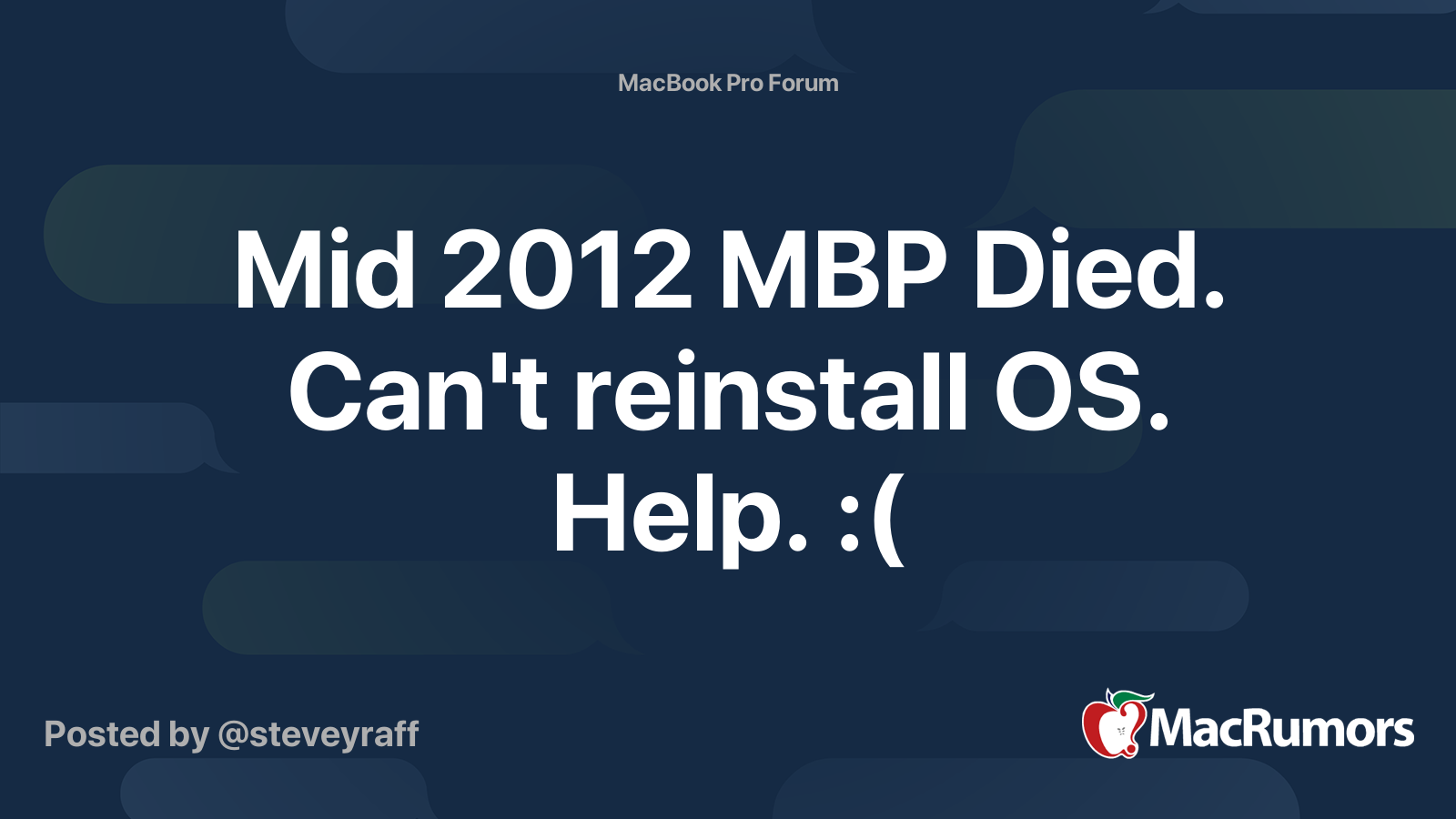 This is my very last effort to revive my Macbook Pro. I don't want to waste anyone's time here, so I made sure to exhaust all other options available to me via online tutorial videos and other forum posts. I have tried everything I can think of.
I was working as usual on my MBP last week, when all of a sudden it froze. This has happened on occasion before and has always been just holding down the power button and rebooting. However, on this occasion, on reboot, I got the dreaded "forbidden sign". On startup, it just freezes on the white screen with the Apple logo, which turns into a circle with the line through it.
This is where I started troubleshooting and trying everything I could find online. At first I was determined to save the information to my hard drive – but I exhausted all those options and even tried wiping the drive, reformatting it and doing a clean install. I've tried several ways to do this, and the fresh install always fails towards the end.
Tried SMC, PRAM, NVRAM reset several times.
I ran Disk Utility from recovery mode and attempted to repair the internal drive. Initially this allowed me to repair the primary drive, but when I clicked "Show all devices" etc. and tried to repair the container volume, it still failed.
I have tried various terminal related options such as performing disk repairs through Terminal
I tried Target Disk mode, but unfortunately despite ordering Firewire and Thunderbolt cables, my other, older MBP can't run a compatible OS to interface with my broken MBP's disk.
SATA cable. I've been hit with the infamous 2012 MBP hard drive SATA cable problem before. I successfully replaced it a few years ago (I also had a dodgy screen, and a few years ago I replaced it). 've also successfully replaced with a new one). When I replaced the SATA cable previously, I made sure to insulate it well with electrical tape, to try to prevent this from happening again in the future. Looking at the cable, it looked pretty pristine. To be sure, I tried swapping the SATA cable from my old working 2009 MBP. Again, the same problem, the forbidden symbol on startup.
Via Terminal, I accessed trial versions of iBoysoft and Disk Drill software to scan and recover my internal hard drive. None of these options worked. I've allowed them to "prepare for scan" for up to 4 or 5 hours, and they never seem to even initialize the scan properly. They both seem to stick to a pre-scan prep phase – where they can't scan any files for recovery.
At this point I just wanted a working MBP because I use it for work, and am now days behind, working with the machine for hours every day. So I opted for destructive methods. I had the idea deep down that although the drive is formatted, I can try running the file recovery software when I turn the machine back on, to see if it can find any files from the pre-format. I have a backup of the working files, but it's almost a year old, and there are some current files that I reuse frequently and would really like to get back – aside from the usual sentimental photos of family photos and the like.
So I started completely erasing the internal drive. Formatted as suggested on all online tutorials. Mac OS Extended journaled, GUID partitioning. If I understand this correctly, when I do this, there is a partition created for the newly installed OS which is a container disk volume in APFS, or is converted to such a reinstallation process?
Once formatted, I always relaunch First Aid and make sure everything comes back clean and clear.
I have tried several times to reinstall an operating system on the machine, each time it fails. First, I started the standard recovery mode, then in the Utilities menu offered, I clicked on Install operating system. After several long hours of installing Mojave, it still failed to install at around 90%
I then attempted to reinstall Mojave again using a bootable USB using the dosdude Mojave Patcher. Again this failed near the end of the install
Finally, last night I tried a second time to use Internet Recovery. I had tried this on a previous attempt, and again, as Mojave neared the end of the install after long hours on my sub-par connection, it failed.
I've started using an ethernet cable for a direct connection to my router, to make sure that's not a factor, as it seems to have been for some people.
I reformatted and ran Internet Recovery one last time last night, and this time I used the command shortcut to reboot the Mac to install the base OS it was supposed to ship with. – which initiated a download for Mountain Lion. It actually gave me a glimmer of hope, because I really thought that installing the first version of the OS on a clean hard drive would work.
I opened COMMAND + L to view the log when it was installed. Over the next few hours it worked its way up installing just over 400 "pieces". I checked on him from time to time while he was doing this. Last time I checked it was approaching the 400 mark. I think just before it got there I heard the MBP restart. So I ran up to it and all I saw on the screen was a prompt to install Mojave, again. Not knowing what else to do, I assumed it was part of the full reinstall and the update was automatic, so I continued. Again, near the end of the Mojave install progress bar, it failed.
I do not know what to do. I don't understand how it seems to work fine in recovery mode – I can invoke Safari on Terminal and surf the web just fine, the machine handles everything smoothly. Still, I can't start it normally. I can't reinstall ANY OS, using ANY method – USB Boot, Internet Recovery, wifi, ethernet… I've tried everything. I am completely lost now.
I tried to make this report as concise as possible, but due to the frantic work I put into it, after dozens and dozens of online help tutorials, I only remember to a certain extent order and comments on each method. I can tell you that other things I looked into included disabling encryption, disabling SIP, and running a bunch of other Terminal diagnostic tools. I should have listed the error messages but I have no method to copy/paste to the broken machine – sorry. I saw some errors along the way in reference to tree nodes, I think it was an invalid B-Tree node size.
I guess the only thing I can personally think of at this point, with my limited knowledge, is to buy a brand new internal hard drive and try reinstalling it. At this point, I'm not optimistic about everything working. It's either that or it's time for a new (refurbished) MBP…which I REALLY can't afford right now.
Sorry for the long post – thanks for any help anyone can offer. If I've tried it I'll let you know, if not I'm willing to try anything!
Thanks Steve.