Twitter Windows and Web App Add New Communities, Super Followers, and Spaces Features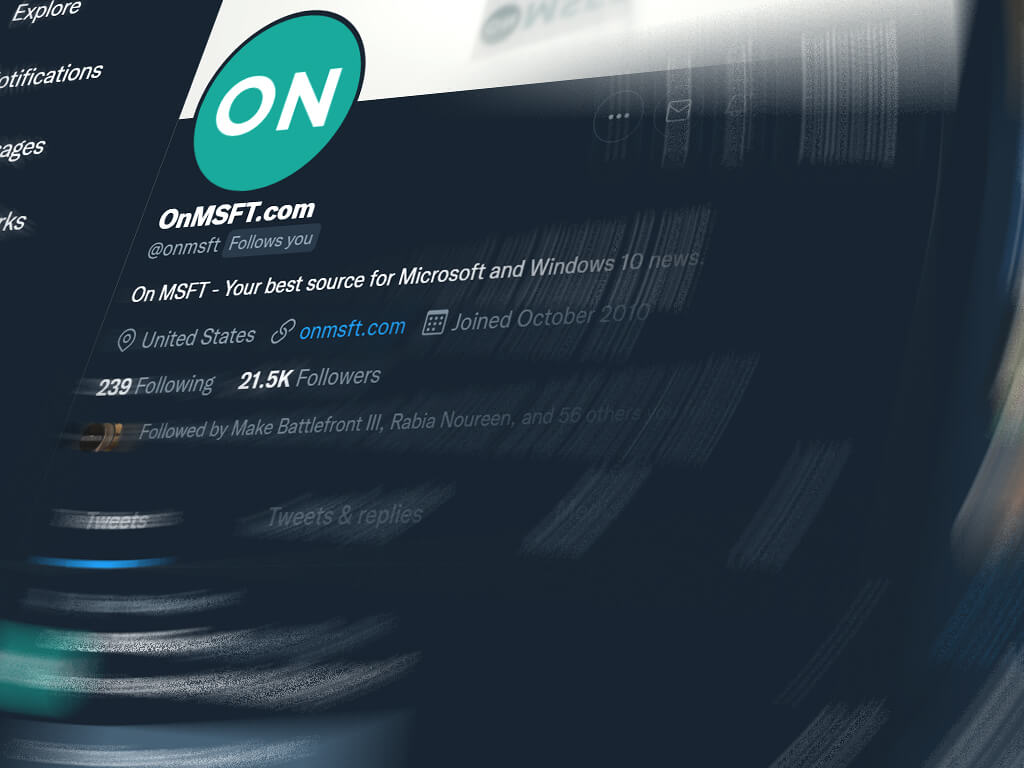 The Twitter web experience and the Windows app for PCs and tablets running Windows 10 and Windows 11 have been updated with a variety of new features and functionality over the past month.
Some of the most notable changes include additional tools for Communities and Spaces, an improved DM experience, support for the recently launched Super Follows paid content, and the addition of a localization option when composing. a tweet.
Here is the complete release notes new additions and updates to Twitter features:
New

Communities: We've worked on a number of things to help you manage and customize your communities. Community admins can now edit themes, banners, rules, and indicate whether the community is open or invite-only. More to come, follow everything with @HiCommunities.
DM: A lot of work has been done to improve the scrolling experience in DMs. Scrolling through historical content should now be a lot smoother, and the conversation will always stay pinned to the back when it needs to.
Spaces: currently available for a limited number of hosts, we make an effort to bring reading spaces registered on Twitter.com. Learn more here and stay up to date on all things spaces with @TwitterSpaces.
Super Follows: The ability to compose exclusive Tweets for your Super Followers is now available to all creators on Twitter.com.
Twitter Blue: We're exploring ways to take the Twitter experience to the next level. Now launched in select countries, Twitter Blue is a paid monthly subscription that gives you access to exclusive features to help you personalize your Twitter experience. In addition to managing signups and subscriptions, we start with a set of features, including Tweet cancellation, top posts, reader mode, ad-free posts, and favorites folders. Learn more and stay up to date with @TwitterBlue.
Tweets: When new Tweets arrive in the timelines, they are grouped behind a new Tweets bar. This helps maintain your position while scrolling and lets you view new content when you're ready.
Tweets: The web tweets editor now supports the ability to add a location to your Tweets if location services are enabled in your browser.

Update

Accessibility: Improved accessibility role coverage for all modal views by default. This should improve overall usability for screen readers.
Accessibility: We've added badges to a number of different media types to call out when alt text is applied.
Misinformation Tags: We've updated the look of our misinformation tags to provide additional context and signaling for related Tweets.
Video: The player will now handle search position adjustment requests more gracefully, especially on longer videos. This should result in fewer abandoned requests when searching fast or under slower network conditions.
Spaces: You can now report a space from the preview screen instead of having to join the reportable space. Reporting a space will also display a toast to confirm the report.
Super Follows: Tweets and replies classified as exclusive now display the correct context in the composer.
Tweets: Quote Tweets that contain media with sensitive content warnings will now be displayed as links instead of previewing the content.

Fixed

Accessibility: the password visibility button in the password entry field is now correctly accessible when tabbing.
Accessibility: Improved labeling and accessibility roles for dialog pop-ups that capture focus, like the alt text badge.
Accessibility: We've made improvements to handling when avatars should be focusable and when they shouldn't.
Carousels: Prevents flickering of resizing content when scrolling quickly through carousels.
Composer: The modal composer now prompts you to save or delete your draft if you've made changes and exit the stream from an internal modal such as the GIF picker or scheduler.
Composer: Creating a discussion thread with a poll will no longer cause an error when adding additional Tweets in the same session.
DM: Fixed cases where messages containing long strings such as URLs caused DMs to exceed the width of the chat screen instead of wrapping it.
DM: The size of the DM dial button has been changed for mobile devices.
DM: Scrolling it in the DM conversation window will no longer inappropriately place you at the bottom when there is no typing indicator.
DM: When you make multiple updates to the avatar of a chat group, only the most recent update will be made in the chat.
Connection: We have improved the connection experience for mobile and web apps.
Sign in: Avoid the hassle of entering the password outside the display window on mobile devices.
Multi-Account: Resolved cases where adding a new account would put you in a state where your previous account was incorrectly displayed as logged in.
Scroll Bars: Fixed issues in a number of places where scroll bars were displayed below section headers.
Find: Attempting to find the same query again using the Enter key on the search results screen will now result in a new query.
Search: the search filters screen will no longer redirect to the Explore page when no query is present.
Spaces: Avoid cases where the contents of the Spaces dock move and flicker unexpectedly.
Super Follows: When composing Exclusive Tweets, the save draft prompt will no longer appear because they cannot be saved.
Super Follows: Schedule controls have been disabled for Exclusive Tweets because they are not currently supported.
Third Party Connection: The Enter key now correctly submits the connection request. Additionally, the account name field should automatically populate with suggestions as expected.
Tweets: Tweets sent with the Cancel Tweet option enabled will no longer stay at the top of the timeline in some scenarios.
Tweets: The new Tweets bar will no longer appear when you are already at the top of the timeline.
Tweets: Clicking on the currently active tab will reveal all of the Tweets that are currently behind the new Tweets bar.
Tweets: Disabling or blocking accounts will now correctly remove all related Tweets from the new Tweets bar.
Tweets: Fixed issues when there are still pending Tweets to send and you switch accounts.
Tweets: Educational banners will now display consistently on the Tweet detail screen.
Typeahead: Fixed instances where the typeahead dropdown would be visually cut off on Android devices.
Verification: Progressing through the account verification process without an email address will no longer leave you in an unrecoverable state.
Video: Fixed cases where subtitles were not available for some videos.
An app update is not required to display the above changes, although some features and functionality may be limited to certain regions when tested.
Want more news on Windows apps? Follow us on twitter.
Developer:
Twitter inc.
Price:
To free

Share this post: