Windows 10 can help you with everything from poor eyesight to color blindness to complete blindness. Here's how to access accessibility settings for vision and what each one does.
Open settings
press the Start and click on the settings cog above the power button.
Click on "Ease of Access" in the Settings application
Maximize text and user interface elements
Click it "Display" header under the "Vision" section to access the size settings. You will see two main options:
Make Text Bigger: This Windows 10 Ease of Access option does what you expect. By dragging the slider below this heading, you can change the text size throughout your system. Pay close attention to the sample text, as this gives you a preview of what the end result will look like.
Make everything bigger: This changes the size of the text, but also the interface in general. If you have trouble seeing small icons, for example, this might be useful.
Change your brightness and effects
As you scroll down through the "Display" section, you will see two more titles:
Make everything brighter: This easy accessibility option allows you to increase or decrease the brightness of your screen so that you can see it better. It provides an additional link to the night light settings, which allows you to adjust the heat of your screen.
Simplify and personalize Windows: These accessibility settings help you reduce the effects that may confuse your eyes. You can turn off animations, transparency effects, automatic hiding of the scroll bar, and desktop backgrounds. You can also change how long notifications stay on your screen.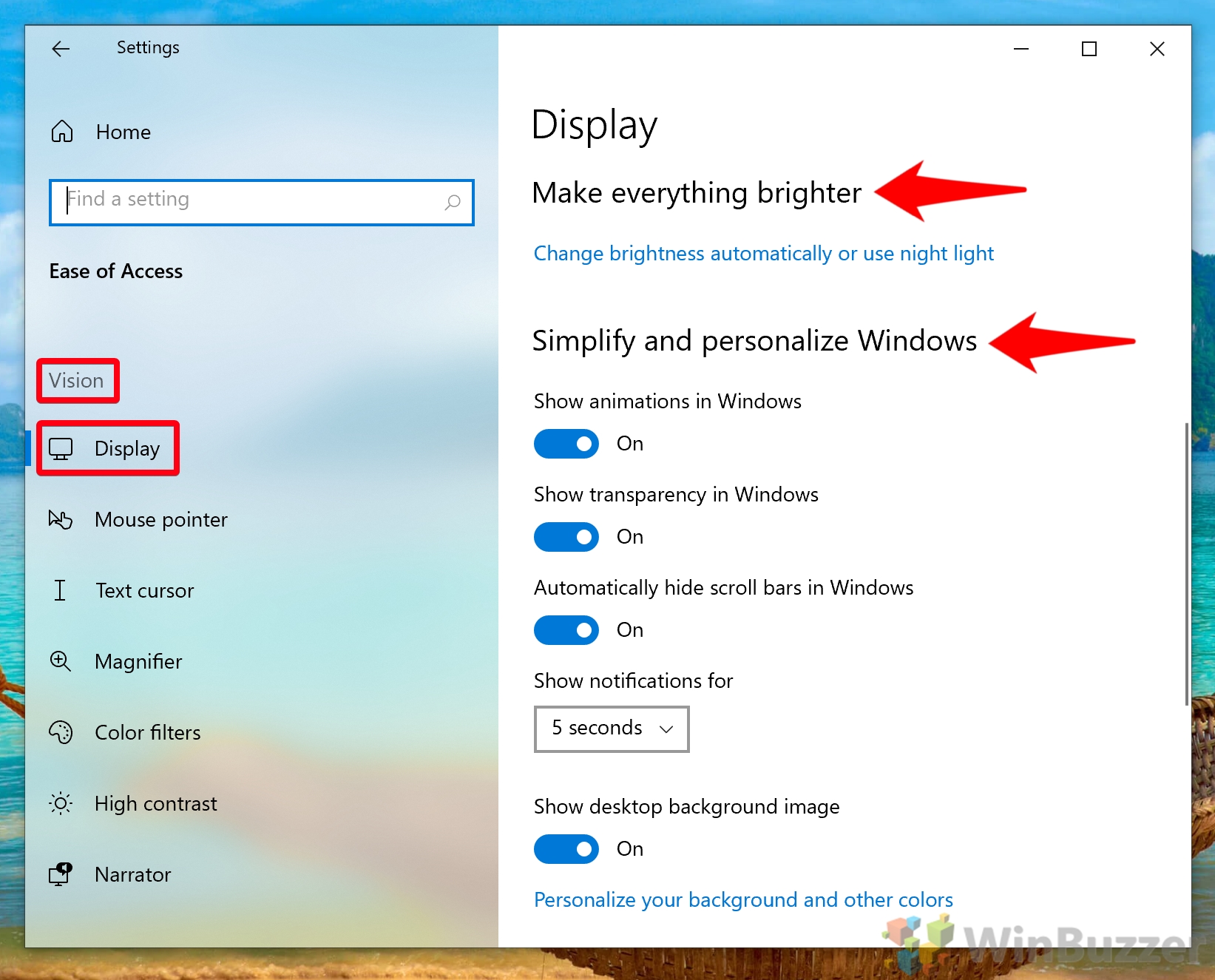 Change your mouse pointer settings
By clicking on the "Mouse Pointer" heading in the sidebar, you can access various Windows 10 cursor settings:
Change the size and color of the pointer: Drag the slider to make your slider bigger until you can see it comfortably, to change its color to provide more contrast on different backgrounds.
Edit tactile comments: Having trouble knowing when you've tapped a UI element? Activating visual feedback will display an animation when you press. You can optionally check "Make the visual feedback of touch points darker and larger" if you have trouble seeing them.
Change your text cursor indicator
The text cursor indicator is the small black line that indicates where you are in a text document or search bar. If you have trouble with your vision, it can be very difficult to see. Fortunately, there are Windows 10 accessibility options just for this. You can access it by clicking on the "Text cursor" header under the "Vision" section of your sidebar.
You will see the following accessibility settings:
Use the text cursor indicator: The text cursor indicator is made up of two fan shapes that appear at the top and bottom of your text cursor. It makes things a lot easier to see. You can change the color under the toggle switch to a color that matches your preferences.
Change the appearance of the text cursor: This ergonomics setting allows you to change the thickness of the line itself. You can drag the cursor to make the text cursor wider so that it stands out more against a background.
Change magnifier zoom levels
You've probably heard of Magnifier before, but you may not be familiar with the customization options offered by newer versions of Windows 10. After finding it in the Vision section of the Ease of Access sidebar, you will see the following important options:
Use the magnifying glass: This toggle turns the magnifier on or off. You can hold the Alt key and scroll to zoom in or out.
Change the zoom level: This changes the zoom level of your screen. 200% will double the size of everything. You can go up to a maximum of 1600%.
Change the zoom increments: Changes the amount of magnifying glass "jumps" when you use the controls to zoom in or out.
Change your view of the magnifying glass
Windows 10 Ease of Access magnifier section also offers the option to change your magnifier view.
Under the "Choose a view" Header, you will see a drop-down list with three options: "Full screen", which increases the size of your entire screen, "Anchor", which creates a window at the top of your screen that you can move around in, and "Lens", which creates a box that automatically follows your cursor.
You can switch between these views at any time by pressing Ctrl + Alt + M on your keyboard.
Change your magnifying glass reading settings
the "Reading" The settings section of the magnifier provides a drop-down list from which you can change your modifier key. You have four options: Ctrl + Alt, Caps Lock, Insert, and Caps Lock or Insert.
All of these will change which button you press the start button to and resume Magnifier's text-to-speech. You can see the shortcuts in your settings app or in the image below.
Activate color filters
By clicking on "Color Filters" in the Ease of Access viewing section, you will have different options, the first being the ability to turn them on or off via a toggle.
Activate color blind filters
Once the color filters are activated, other accessibility settings let you choose between different color blindness modes. There are two red-green filters for deuteranopia and protanopia and one blue-yellow for tritanopia.
Activate high contrast mode
In the vision section of the sidebar you will also find the "High contrast" section. High contrast makes background elements black and text white, yellow, or green depending on its function.
Choose your high contrast theme
Below is how the default "High Contrast Black" theme appears. You also have the option to choose from three additional themes, "High Contrast Light" and two other variations of the black theme.
How to use text-to-speech (Narrator) in Windows 10
You can activate Windows 10 speech synthesis under the "Narrator" sidebar section.
If you're wondering how to get your computer to read outside of the magnifying glass, here's the answer. If you turn on Narrator, the text-to-speech will read everything on your screen, including new notifications.
Further "Boot options" allow you to customize whether the Narrator hotkey is active, starts when you sign in, and more.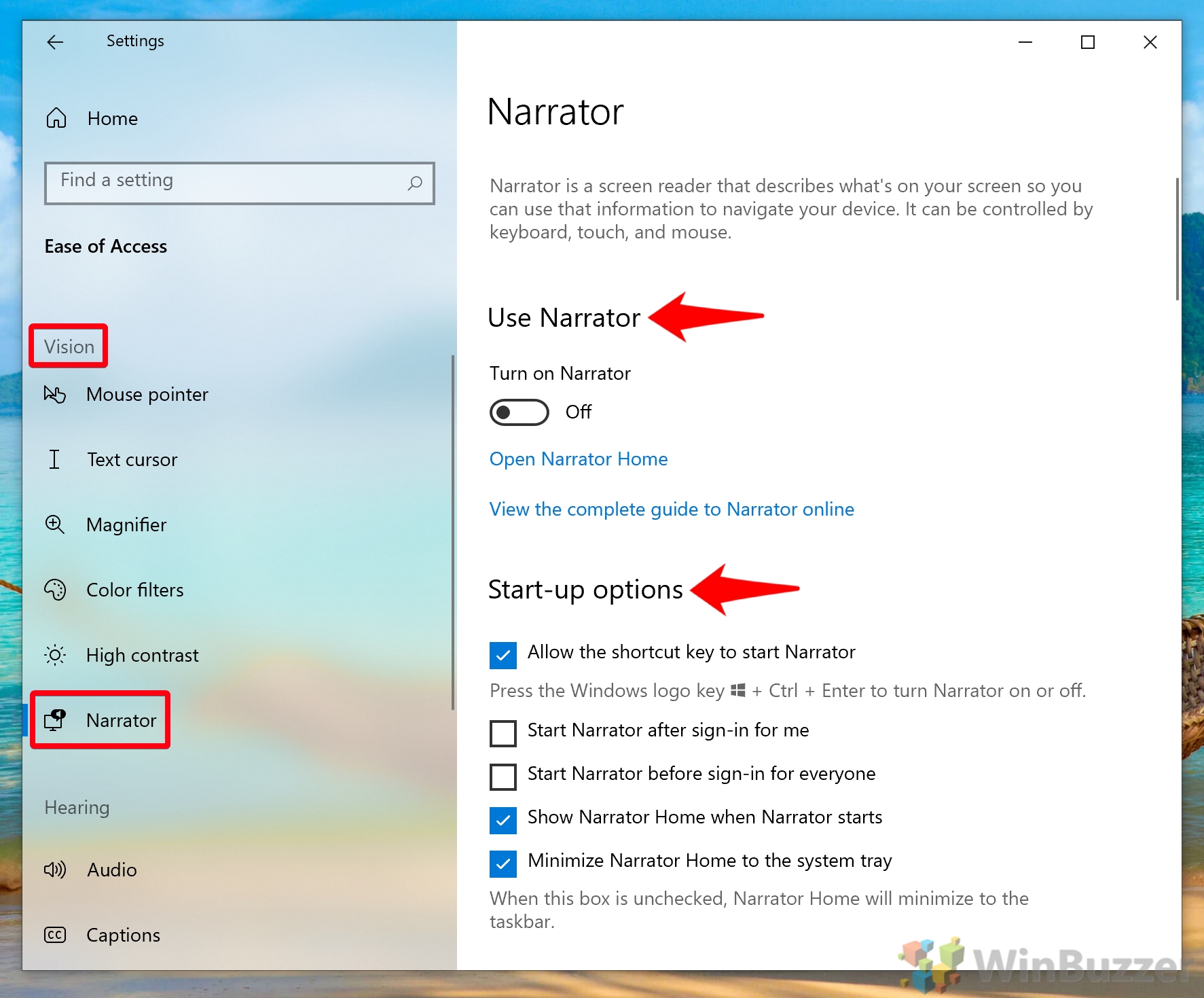 Change the voice of your Windows 10 narrator
If you don't like the default voice for Windows 10 text-to-speech, Microsoft offers several options under "Customize the voice of the narrator". You might have less if you use a language other than English, but most of the time there is a male or female option.
You can further customize the speed, pitch and volume of the voice to suit your preferences.
Change the level of detail provided by Narrator
By default, Narrator reads all of the details of the control, which can be helpful or frustrating, depending on your situation. You can change it via the drop-down menu under "Change Narrator's level of detail on text and commands".
Change what Narrator reads as you type
You can also adjust what Narrator reads as you type, with the ability to hear words as you type, hear letters, numbers and punctuation, and more.
Narrator settings also let you change the layout of your keyboard below the "Change keyboard settings" section, as well as the key you use to select the narrator.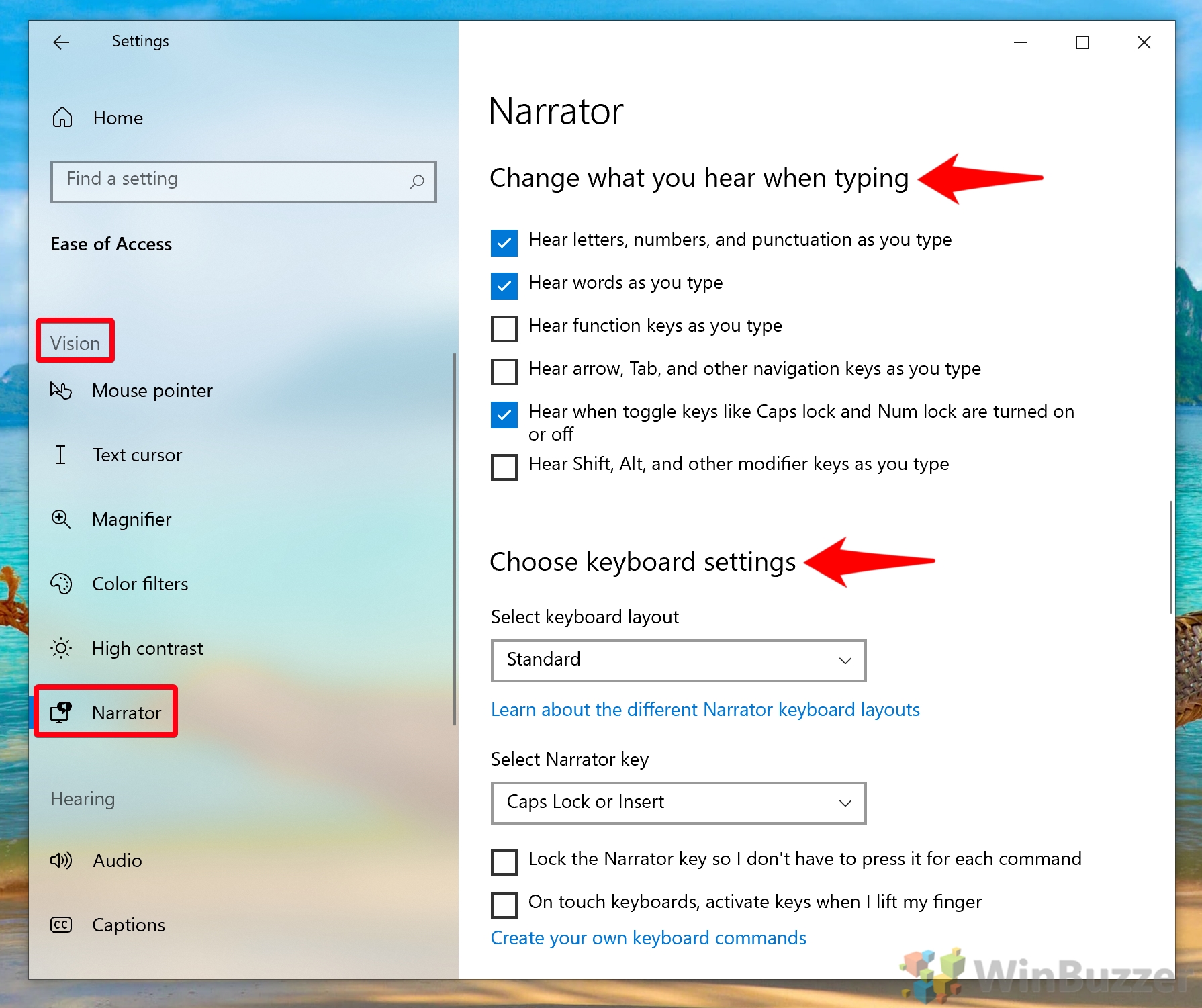 Turn the Windows 10 Narrator cursor on or off
The Narrator cursor lets you point at text with your mouse and ask Narrator to read it. You can also adjust this in the narrator settings, with a total of six different narrator modes to choose from.
Turn braille on or off
If you have a braille display, you can also set it up in the Narrator section. In addition to the ability to enable braille for use with Narrator, you can add braille display, change input languages, and change output tables.
Manage your data and services
You can also sync your settings, give Windows 10 text-to-speech feedback, and choose to get popular image descriptions, page titles, and links by sending them to Microsoft.
Activate scan mode for faster reading
The last notable option is the scan mode, which you can activate by pressing the caps lock and space bar keys. Once active, you can press the up and down keys to read everything in an app or web page.
Source link