Windows 11 Repair and Recovery Tool is available for FREE at the moment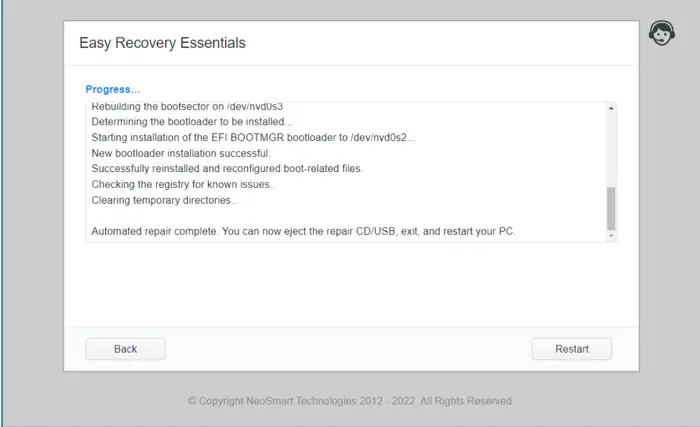 Once your Windows system starts showing signs of trouble, it may be difficult to fix it. Although it is always possible to resolve these issues manually, the repair can be long and difficult. This is where the role of the Windows 11 repair and recovery tool EasyRE comes into play. It automates the whole process.
Download the EasyRE Windows 11 Repair and Recovery Tool for FREE
EasyRE, a Windows 11 repair and recovery tool provides a reliable way to resolve some of the most common persistent issues in Windows, such as boot errors, EFI bootloader issues, MBR issues, and blue screens. when starting Windows.
Its repair method is fully automatic and follows a unique approach. Instead of looking through a catalog of known issues and known solutions, the tool actually tries to start the same way as Windows. In this way, it can detect issues that arise that would otherwise slip through the vulnerabilities of other repair solutions.
NeoSmart Technologies is pleased to announce the immediate availability of the latest additions to its line of Easy Recovery Essentials bootable repair and recovery tools for Windows for Microsoft Windows: EasyRE for Windows 11 and EasyRE Pro for Windows 11. Continuing a tradition that started with Windows 10, our Windows 11 Boot Recovery USB is currently available as a completely free download for anyone who needs to repair their Windows 11 installation after a virus infection or Windows update error, mentions the blog post.
When turned on, EasyRE thoroughly scans all hardware and software components for any issues that prevent your PC from starting or functioning normally. Once identified, he attempts to repair them and restore normalcy. Besides, it also prints a summary of the repair process and gives the user the option to return to the main menu or restart in the repaired Windows installation.
The tool is currently available as a completely free download (no ads, no bundleware) for a limited time from neosmart.com, so don't miss this opportunity to download it for FREE now!